A hot week of racing in Samoa filled with some jaw dropping action and finishing with a heart stopping V6 Open Men race. But First let's start with Day 1 Race 2.
Waiolu Publico was the first Big Island Jr. paddler to test the waters in a V1. Live coverage primarily focused on the top 4 paddlers and crews, which made for some frustrating viewing but due to the large race course coverage was limited.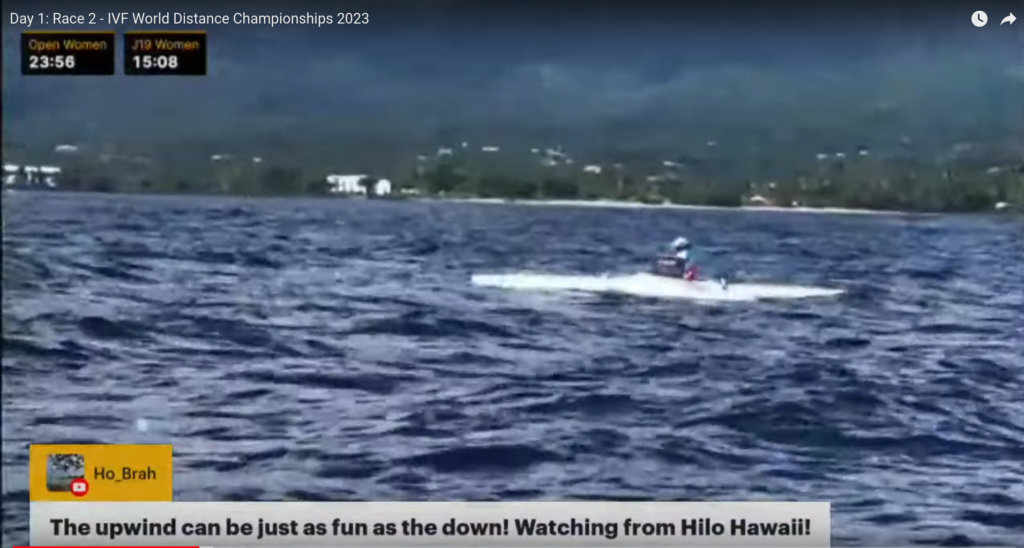 Waiolu gave a good chase on the first lap only to get pulled from the course along with 2 other paddlers who didn't make the time out limits for each lap. For those watching the stream it was unclear why some paddlers seemed to disappear, but to keep the races flowing quickly paddlers were kept to strict time limits
You can watch the replays from the live stream from Waiolu's race here:
Results from all the events can be found on webscorer. Just search by race name an type in IVF.
https://www.webscorer.com/findraces?pg=results
That same day Race 3 had the Men's V6 40 crews with Keahi and Tito for Team Hawai'i and Nik for Team Germany.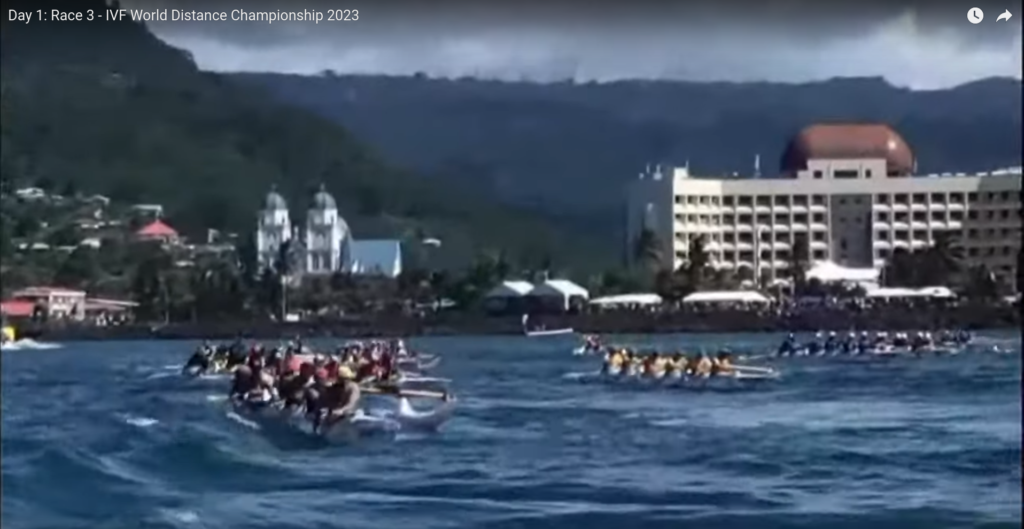 They paddled to an impressive 6th place only 9 seconds behind Tahiti and 6:40 behind 1st. Impressive finish for a crew that had to be pieced together quickly due to Lanikai dropping out and passport issues limiting crew members. And Germany finished 11th, 12:53 behind 1st place.
Day 2 Race 3 were Men & Women J16 V6 with a Koyd crews in both races. The Men J16 finished 5th 14:12 behind first and the Women J16 crew finished 4th 14:41 behind first place. Catch the action here.
Day 3 had Ali'i in the V1 race 1 and it was a wild ride. The leading paddler from Tahiti had a huli by a reef and that set him back a couple of positions and Ali'i fought hard to gain ground on the leaders. In a wild finish Ali'i managed to out-surf the Tahitian paddler crossing the line 3rd by 0.009 seconds over 4th place. It was an amazing finish to watch. Check it out.
The Heart Stopper
The last race of the week is the mens open division and Jose was paddling with Team Hawai'i along with Chase, Trey, Avans, Jack, and Keakua.
The camera crews focused primarily on the top 4 teams and Tahiti and New Zealand looked unstoppable. They hammered out to the front early. But there was some action in the mid-field as Hawai'i began to slowly pull up and pass crews in the large chop and spray.
By the end of the 2nd lap they had moved into 3rd when they pulled an amazing move to push out New Zealand at the turning mark.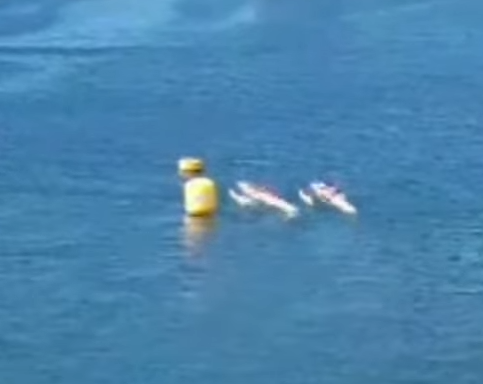 Tahiti still had a sizable lead, but there was a full lap to go and it was a full on battle. The video was amazing to watch from start to finish but here's the spoilers.
In an unbelievable push, Hawai'i kept gaining on Tahiti. Then the Tahitian stroker had a massive cramp approaching the finish line. He looked like he might have been suffering from a heart attack he was incapacitated but you can see in this still as Hawai'i pulled up next to them he's trying to recover (Red Jersey) and keep his team in the game. He fought hard to keep paddling and was in obvious pain.
Team Hawai'i had speed and desire and in the end put a 28 second gap on them to win gold from a massive deficit off the start. The odds won't be spoken.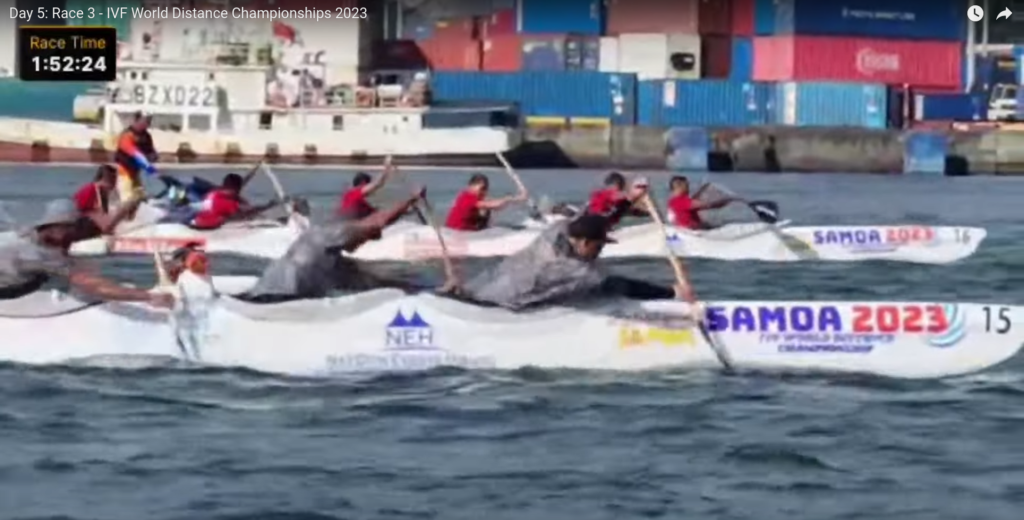 If you do one thing, take some time to watch this race. It's better than any Superbowl.
There were a lot of other great paddlers out there and Hawai'i teams that placed high, including more 1st places. Browse through the results pages and see how strongly they finished in a world class event.