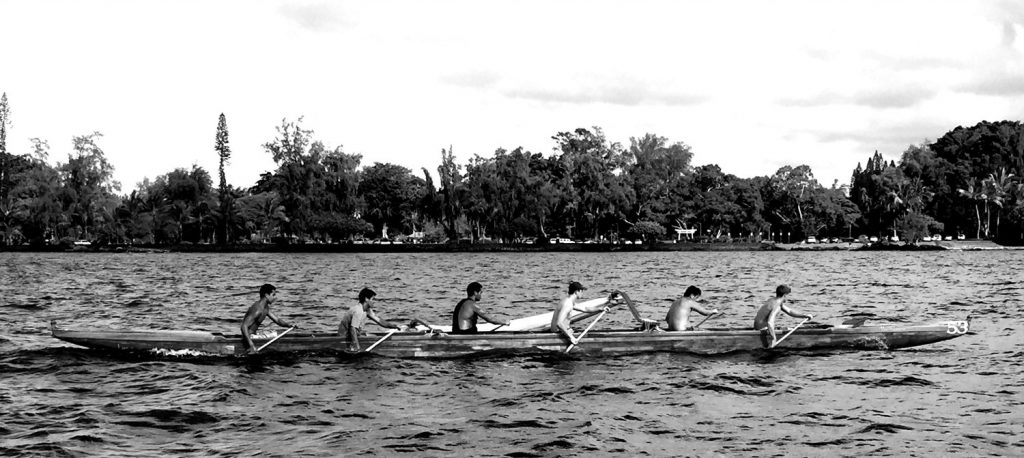 The Waimāpuna and Waiaka Koa Canoes of Keaukaha Canoe Club
By Keahi Warfield
He waʻa he inoa ʻo Waimāpuna/ʻo Waiaka
He waʻa no Keawe
Hoe i ka lanakila, Hoe!
This chant was composed in 2008 to honor both of these canoes that originate from the island of Hawaii known as Keawe. The intent of this chant is to give recognition and remembrance to our Hawaiian traditions and the koa canoe; also to the individual member of the club to move forward in times of opposition and to paddle to victory. The logs were actually donated from the Greenwell Ranch located in the ma uka regions of Kona. Through diligent community leadership on youth, members and family organizations, the club managed to raise enough funds to get the logs carved.
The Waimāpuna log was eventually given to Uncle Red Kanuha, Joe Mano and Bill Rosehill of Kona who completed the work of its original design. Previous to the Waimāpuna being sent to Uncle Red, the canoe was first worked on at the campus of Kāpalama at Kamehameha School by Wright Bowman Sr. and his son Wrighto Bowman Jr. Some names essential in acknowledging of the Waimāpuna and Waiaka history is Billy Kailimai, Maile Mauhili, Kūpuna Pahio, Delbert Whitney, Luana Kawelu and many others.
The Waimāpuna was given its name by Aunty Luana Kawelu with blessings from the late Darrel Lupenui. Waimāpuna the canoe was named after his hālau hula of men known as "The Men of Waimāpuna," who competed in the Merrie Monarch Festivals and were very successful for a long time. The Waimāpuna was completed in 1980.
As for the Waiaka, she was built a little after the Waimāpuna was finished. Waiaka translates as a reflection. When the log for Waiaka was first cut, the koa grain within it was so beautiful it looked as if you were looking into a mirror. Both of these canoes are wahine waʻa and are always referred to with "she," or "her" when speaking of these waʻa.
Please forgive the writer of this brief history for any incorrect information given. If any further information can be added or corrected, please contact us.