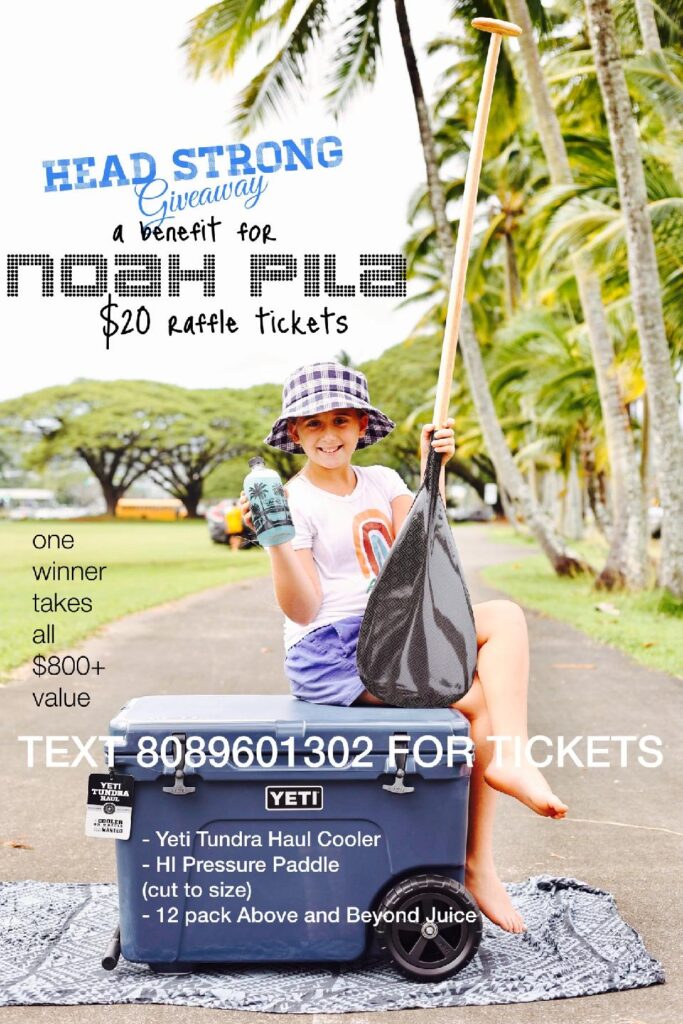 Kwai-Chang is hosting a raffle to benefit Noah Pila with the winner taking home some nice prices on Christmas Eve.
Text Kwai-Chang to get your tickets to support Noah and maybe ring in the new year with some new gear which includes a custom length paddle, Yeti Cooler and a big pack of Beyond Juice.
Please help spread the word!
Hilo Race Dec. 17 for Noah
This upcoming weekend on Dec 17th there is special race being put on "Head Strong" to help a young Hilo Big Island paddler who has been diagnosed with a cancerous tumor in his head. His name is Noah Pila. His parents Grant and Anna Kaʻauʻa have raced in HIPA races, MOKU paddlers and coaches at Keaukaha Canoe Club as well as high school paddling coaches at Keaʻau high school.
Anna is currently with Noah at Queenʻs on Oʻahu by his bed side while Grant is in Hilo caring for their daughters Kaili, Pakela and Ahonui. Itʻs never easy for family when unexpected situations happen such as this. Noah will be going through a medical procedure to remove the tumor. Some risks included temporary or long term weakness, speech issues and future cancer treatments and procedures.
Therefore, this special race taking place at BayFront is to provide support the Kaʻauʻa ʻohana.  Your registration fees will go directly to help the ʻohana for all and any medical and other needs at this time.  
The race course will be one course. No long or short. Just one course, but with divisions. Course will be decided upon on race day.
Register on-line at the HIPA website under upcoming races. Check-in begins at 7:30. Race meeting will be at 8:15am down by Official Stand and race start shortly right after (5-10 minutes right after) with a beach start.
*** There is a high school regatta race at Bay Front happening same day at 9am so each paddler is encouraged to have your canoe with you near race meeting, at official stand, so there is no delay, collision, confusion or left behind when race starts :-). BEST to have your vehicle near the official stand grass area to off load and reload your ocean craft.
*** No awards or food will be available as we want to use this time to shower the ʻohana with our HIPA ALOHA.
*** For those who are unable to attend and would like to support the family, here is the GOFund me and VENMO links  to donate to.
https://www.gofundme.com/f/noah-pila-takes-on-cancer?utm_campaign=p_cp+share-sheet&utm_content=undefined&utm_medium=copy_link_all&utm_source=customer&utm_term=undefined