Congratulations to all the hard working volunteers, paddlers and supporters (family and friends) who made our regatta a great success! We saw a lot of great paddling out there and team work. Even this morning we have paddlers down at bay front working to help clean up anything over looked from last night.
We had a really great set of races taking home the most gold. Just check out the overall race summary of each clubs' totals.

That's 11 golds to Puna's 8 and Kai Opua's 7. In fact we had the same number of 1st, 2nd and 3rds as Kai Opua making us tied at 65% of our crews getting a podium place. We came within 4 points of Kai Opua in 1st. which means the overall results were decided by small technicalities of how many crews were in the races and even as little as the difference between a couple 4th or a 5th in a race. Everyone's efforts added up and we scrapped for every point. It was a great day for Waimāpuna and all the paddlers she carried.
After Race Action
For those who stuck around to help cleanup were given a great treat from the Kekuawela Ohana and their dancers from Merahi Productions. They banged out some great Tahitian style rhythms while the dancers in full costume put on an amazing show. This included pulling up unsuspecting audience members to try the high speed Tahitian moves with them. Keahi fled their efforts to recruit him to the stage faster than anyone has ever seen him paddle.
There was also a group of 4 men who answered the call with several of their own well practiced Polynesian dances.
And for those who hung around long enough to learn about Jose's newest potential sponsor and try some samples…well you might have been among the luckiest!
Return of Crabbie Paddle
More exciting news is we managed to get Crabbie Paddle the world famous youtuber, Mike, out of retirement. He busted out the gear and painstakingly recorded all of our crews. Big Mahalo!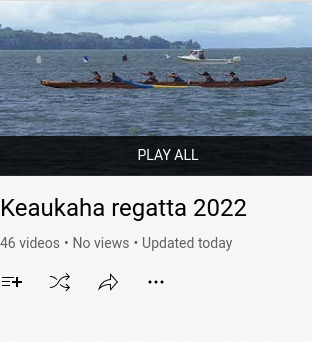 You can see your event on his channel and here is the Keaukaha 2022 Playlist.
Watch your crews and your competition. With youtube you can also slow down playback for better slow motion analysis. Click on the "gear" symbol and select a playback speed.
Return of Lost Steering Blade in Kona?
Back in the last Kona regatta a Kialoa paddle was left behind. It has a unique sticker that the owner can identify. Please contact the Kaaua's or use the website's contact page if you know anything about the steering paddle. Mahalo.