It's not a type of battery. Enter the States Regatta with more than 20 qualified crews and you'll find yourself in the top division. With 21 crews qualifying for the first time ever, we joined the battle with Puna against the big 'Oahu and Maui clubs.
At the halfway mark Keaukaha was in 4th ahead of 3 other clubs and only a few points behind 3rd. Then we hit our dead zone with 5 empty races followed by 3 more empty races. This allowed other clubs to keep climbing and create a gap.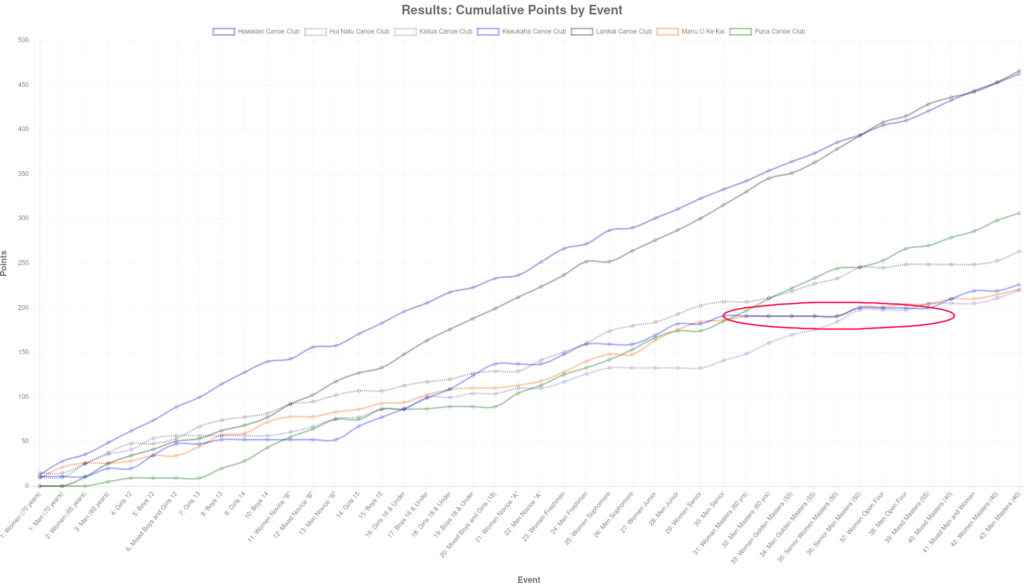 The bigger picture is we had more points than 50 clubs and we finished in the top 5. In the AAAA we beat 2 clubs with significantly more crews racing: Manu O Ke Kai had 35 events and Kailua Canoe Club had 29 events to our 21.
The battle for the top was also very heated with Hawaiian Canoe Club who was strong all day long got slowly edged out in the adult events with only a 3 point separation at the end of the day.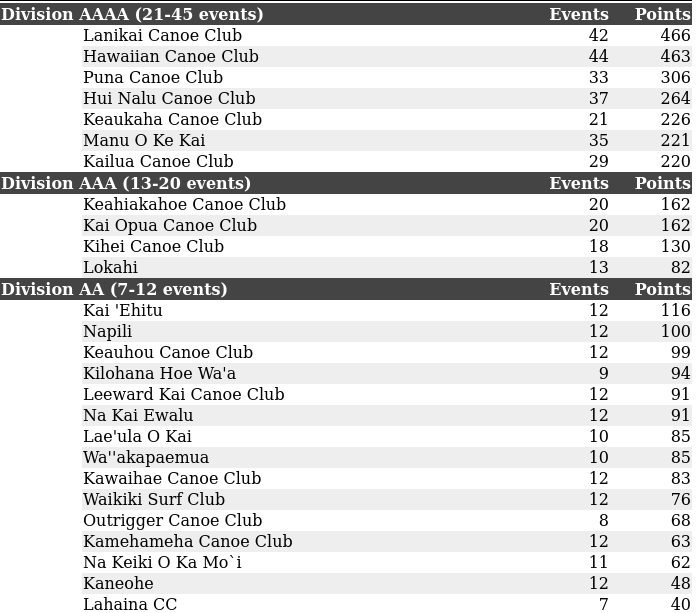 Compare this to AAA which is 20 events. We had just 1 more event than AAA, but pulled in 64 more points than the first and second place AAA clubs (226 vs 162).
Hardware
Primarily powered by the kids, our medal count was impressive. And all our crews placed high, even if not on the podium.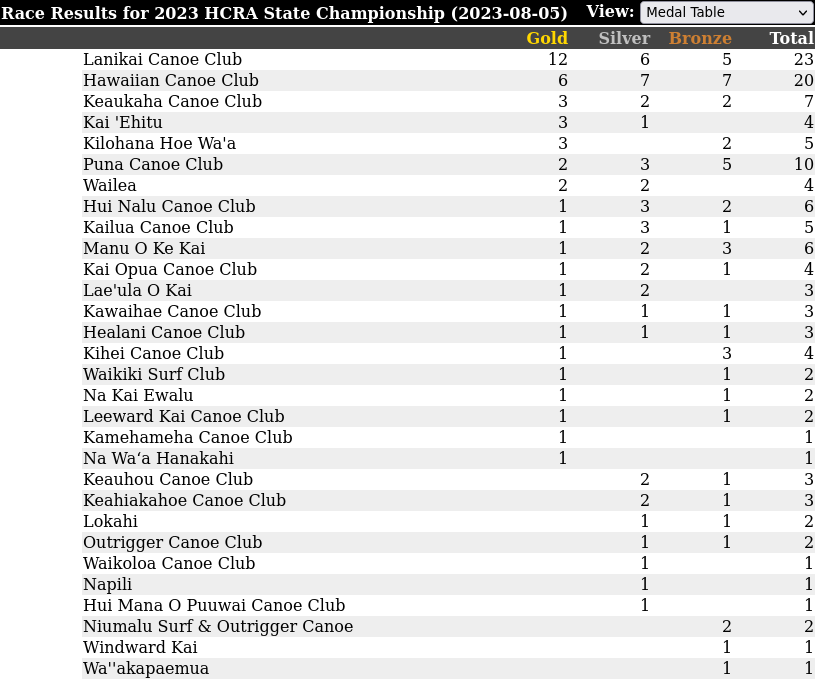 Ranked by number Golds, then Silver then Bronze we were #3. In totals we were #4. This puts us at #3 right behind the biggest 2 clubs in Hawai'i and ahead of many other larger clubs. So while we might not have had as many points or events, we ran a strong game in every event.
Legend
Special mention needs to go to our very own George Thomas. He was the oldest hammah in the entire regatta racing in the 70's crew at 85.
Crews Dues
We couldn't have gotten into AAAA without the help of all the club paddlers who paid their dues in training hard and racing hard all season. There were ups and downs and mistakes that were made, but if we stick together and try to work out problems we'll understand each other better and come out stronger together even if the process can be messy at times.
Remember the first time each of us dipped our paddles into the water it wasn't pretty; I proudly held my paddle backwards. It takes a lot of training and practice to paddle well even more to paddle well together.
Results
Full regatta results can be found here: https://hcrapaddler.com/hcra_results.php?view=byevent&rid=995
Impressive podium finishes:
1st Boys 12
3rd Mixed Boys and Girls 12
1st Girls 15
3rd Boys 16 and under
1st Boys 18 and under
2nd Mixed Boys and Girls 18 and under
2nd Mens Junior
Hard Work
Thanks to the Novice Men who manned the food sales as well as Kwai and Corrina who made it all possible. Thanks to coaches who always tried to keep the wheels turning smoothly in their many hours of working and planning. Thanks to everyone who donated items, time and money. Thanks to all the volunteers to setup, tear down, clean up, held boats and cheered everyone on.
With World Sprints coming to Hilo next year, 2024 is going to be an amazing time to be a paddler. We'll see some of the best in the world battle it out in our bay. Keep training and let's show them what can do.
2024 Team Jersey
The men's 40 crew were happy to give the paddling community a sneak peak at our 2024 jersey. They definitely caught the crowds attention.