Awesome job by everyone! Crews and coaches all put together their best efforts to gather points throughout the day. The kids and Novice crews had a great race day leaving the club up by 16 points.
The other clubs had a slightly stronger adult crews combined with a couple DQ's on our side gave them a gap that was too hard to close (see the blue (us) vs. green (them)) lines on the point accumulations throughout the day.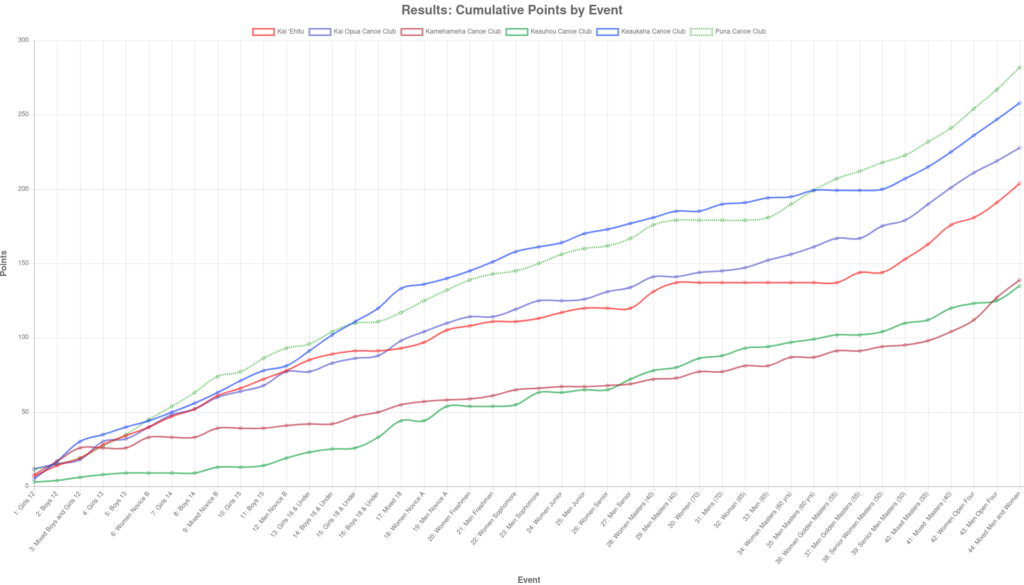 Great racing and team work for all the crews, family and friends who paddled and/or cheered! La'a also did a live stream for the race and for those not able to make it, they were excited to watch from home from the new Moku page: https://www.facebook.com/profile.php?id=100094238237719
Special congratulations to the Men's 70 who finally got to race in their own division (instead of filling the Men's 55). Not only did they wait patiently for a shot at their event, they took 1st: Chucky Aki, Jeff Harman, Greg Kane, James McKeague, George Thomas, Lloyd Van De Car
Videos are up thanks to Mike and a few helpers:
https://www.youtube.com/@crabbiepaddle/videos
Also Kawiki did a great video and with many of our races in Lane 1, we were featured often: https://youtu.be/fFFhlq-hom8
Full 2023 Season Recap
You can find our club's results throughout the year sorted by Event on the webpage linked below. Remember that each regatta has it's own weather and ocean conditions which can effect overall times from race to race as well.
Format is like this:
Race Results for [regatta name] (date)
Event [#]: [description]
[place] ([X] pts) Lane:[X] [time]: [crew members]

https://keaukahacanoeclub.com/2023-season/
Next? Long Distance!
Local Races to Big Island
2023-08-12 Miloli'i at Miloli'i Bay
2023-08-19 Calvin Kelekolio at Honaunau Bay
2023-08-26 Great Waikoloa Race at Anaeho'omalu Bay
Queen Lillu'okalani Race (massive OC6 race in Kona) Thursday, August 31, 2023 through Monday, September 4, 2023 — primary race day is Saturday Sept. 2nd. https://www.qlcanoerace.com/index.asp
Channel Races in Hawai'i
Then Next? OC1 Season!
There is usually an event or two in November and then it's flame on in January! Watch the HIPPA site for their 2023 updates and 2024 schedule.
https://hipa.clubexpress.com/content.aspx?page_id=0&club_id=39669
Things to Think About
States in Hilo will be in 2 weeks, Aug. 5th. Come down and support the club and teams that qualified to compete. There's always some amazing racing to watch.
We have 2 crews and 1 V1 paddler going to Samoa for the World Distance event in August. Keep your eyes peeled for their training and racing. Follow on IG: https://www.instagram.com/koyd.hi/
2024 World Sprints is coming to Hilo. Time to start training. Time trials will be in February and the competition will be in August in Hilo. Top paddlers from all over the world will come to test themselves in our little bay. Let's bring the fire Keaukaha! Two years ago KOYD kids went to London to race with some of the top teams and V1 paddlers in the world. We have a long summary and videos you can learn about the event and see the action: https://keaukahacanoeclub.com/2022-ivf-world-sprints/
Since World Sprints is in Hilo, we should train and field 6 man teams and V1 paddlers for the time trials in February. It's going to be a HUGE event right in our backyard. Let's go!