About the time this gets published 12 very worn out paddlers and several exhausted adults are on their way back to Hawai'i from London, and they represented us like champs!
Keaukaha rolled up in force at the custom 2012 Olympic rowing venue in Windsor, England for the International Va'a Federation World Sprints 2022.
We had 5 paddlers qualify for individual V1 races: 'Ehā, Cother, Ali'i, Tanoa, and Noah. And 6 Jr. men and 6 Jr. women in the V6 1000m and 500m events. The competition was Intense with a capital I.
Heats
The World Sprints race progression is an elimination type of event rather than a single winner takes all. The progression of who advances depends on the number of heats for that category. All of the events for the kids were either 2 or 3 heats and this chart shows how paddlers can advance to the finals. It's important to understand this flow as they were in many races.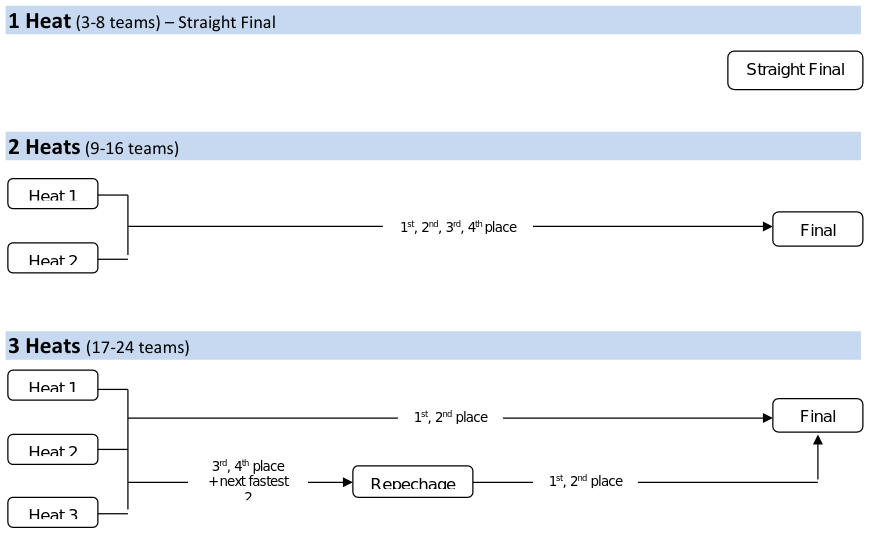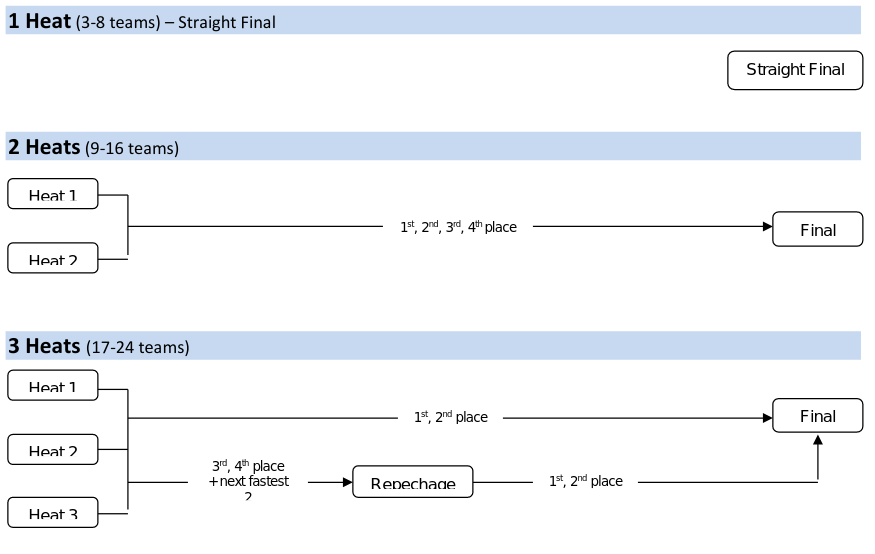 Start Sequence
For the World Sprints there are 2 start lines: a pre-start line with white buoys, and a real start line with colored lane flags.
Once the white flag goes up, crews can move up to the pre-start line. And then when the red flag is raised, crews can approach the start line. If someone is over a black flag is raised. There is no individual warning, crews have to figure it out and back up. As crews settle, a green flag is raised starting the race. If the black flag is still up when the green flag is raised those crews across the line are disqualified.
V1 500 meters
'Ehā competed in Race 060 Jr. 16 Men. Heat 1 of 2, he paddled into a 4th place, qualifying him for finals. In the Race Jr. 16 finals he put up an amazing fight nearly even with the top paddlers until about midway when the others managed to pull ahead. 'Ehā finished the final in an impressive 7th on Day 4 Race 147.
Tanoa in heat two Race 061 Jr. 16 had a blazing start and paddled fiercely down the course. His fellow paddlers pulled slowly out ahead of him towards the mid-field of the course and at the final line placed in 7th and unfortunately not advancing to the finals.
Cother raced in Race 64 Jr. 19 Women, Heat 2 of 3 and padded into a strong 4th place, qualifying her to compete in the next round Race 125 Repechage where 3rds, 4ths and 2 fastest times compete again for the finals. Cother improved to a 3rd place position but with 3 heats, unfortunately only 1st and 2nd in the Repechage advance to the finals.
Noah and Ali'i raced in Race 69 Jr. 19 Men Day 3 heat 3 of 3. The Jr. 19 men moved fast through the water but Ali'i and Noah were a show of force pulling off a 3rd (Ali'i) and 4th (Noah). This qualified them for the Race 144 Repechage round on Day 4 where Ali'i placed 1st to advance to the finals and Noah placed 7th and with 3 heats you have to be 1st and 2nd to move on to the finals. In the Race 154 Jr. 19 Men finals, Ali'i pushed hard and pulled off 7th at the worlds finals!
V6 1000 meters (1 turn)
The Junior 19 Women were the first of our team to do the 6 man race. The 1000 meters requires 1 turn and in these narrow unlimited the turns are very hard. It's not something they get to practice often but they did well.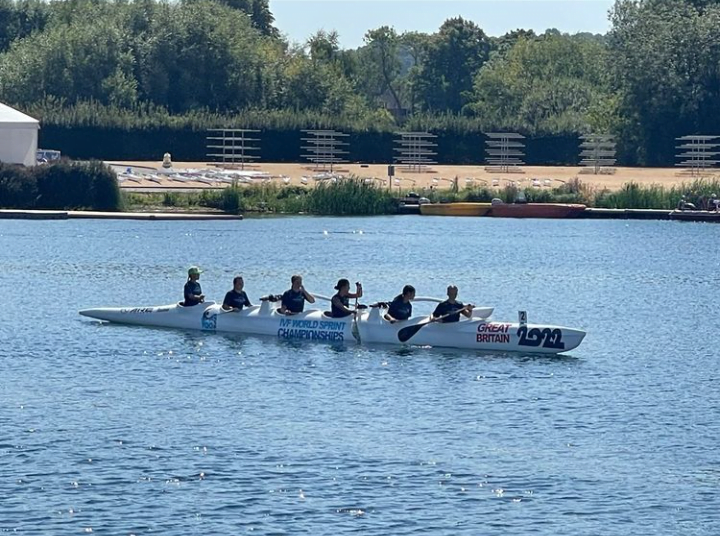 Race 180 Jr. 19 Women in their first race Heat 1 of 3 pulled off a blazing 1st place moving them into the semifinals where they battled it out in Race 202 and got 4th just shy of continuing to the finals.
Race 193 Junior 19 Men raced the 1000m in heat 3 of 3 and the competition was fierce. It was a tight race and tough, they managed a 3rd place moving them into the semifinals.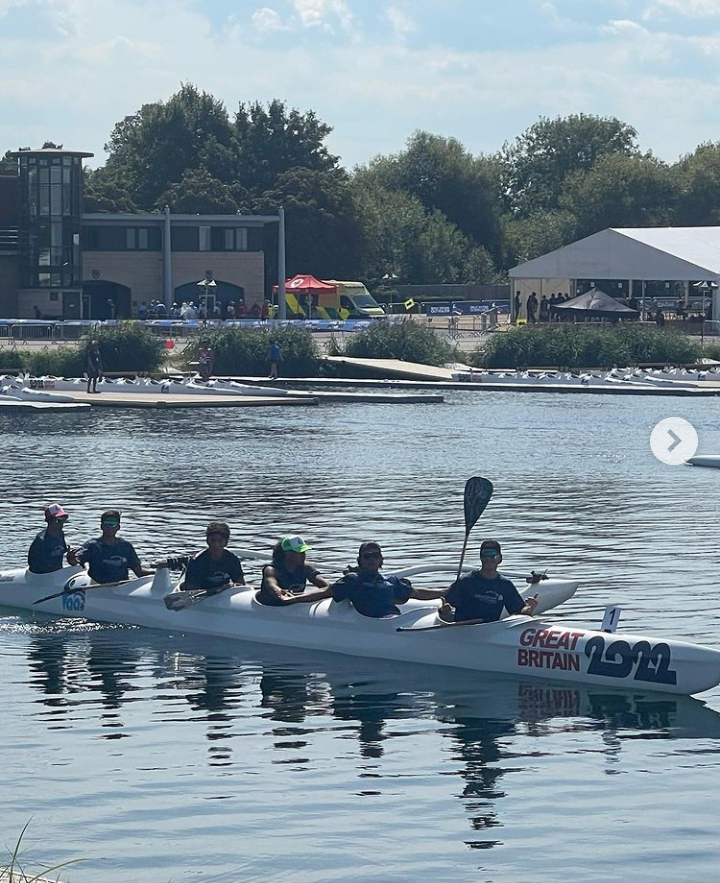 Day 5 the Race 234 Jr. 19 men semi-finals was a tough heat with some fast crews. They paddled their way to a 3rd place which was just shy of qualifying for the finals by only 2 seconds.
Considering both these crews have never paddled at this level on the world stage, in these canoes and most are nowhere near the 19 year old age limit of some of their competitors, it's amazing to see such a high level of competitive performance from them. Great racing!
Lanikai was short one paddler for their V6 entry so 'Ehā jumped in and hammered with them. Race 223 Jr. 16 Men 1000m saw Lanikai accelerate into 3rd place propelling them to the semi-finals. Race 344 Final 1000m and Lanikai (powered also by 'Ehā) brought the silver home!
V6 500 meters
This event is going to be a little more competitive for our crews because of the lack of a turn which they did not have the advantage of being able to practice in an ARE "Matahina" style canoe that's very hard to turn.
Race 335 Junior 19 women heat 1 of 2 started off fast with some fast paddling all the way down the course. The team battled hard and found themselves just shy of the semi-finals in 5th place.
Race 332 Junior 19 men Heat 2/2 saw Keaukaha paddle to a 4th place finish moving them into the finals. Race 372 Junior 19 Men finals was a fast race. #53 didn't disappoint as they blazed down the course to a 5th place in the final race a mere 2.73 seconds behind the podium in 3rd. Great job to all of them!
Once again Lanikai needed some help and 'Ehā stepped up to the plate to help their Junior V6 team again.
Race 380 Junior 16 men with 'Ehā in the va'a with Lanikai found them paddling like pros dueling it out for a shot at first place against New Zealand. These kids were moving out there on the water and almost caught New Zealand taking 2nd making this 'Eha and Lanikai's second silver at Worlds.
Live Stream Archive and Results
If you want to watch more of the action as there are almost 400 races, you can find the daily video archives here:
https://ivf.ignitestudios.org/
And for all the race results and times, you can go to their result page:
https://www.liveresults.co.nz/competition/438
To Be Continued In 2023….