March Madness Awards
After we logged nearly 1100 miles here's the final standings.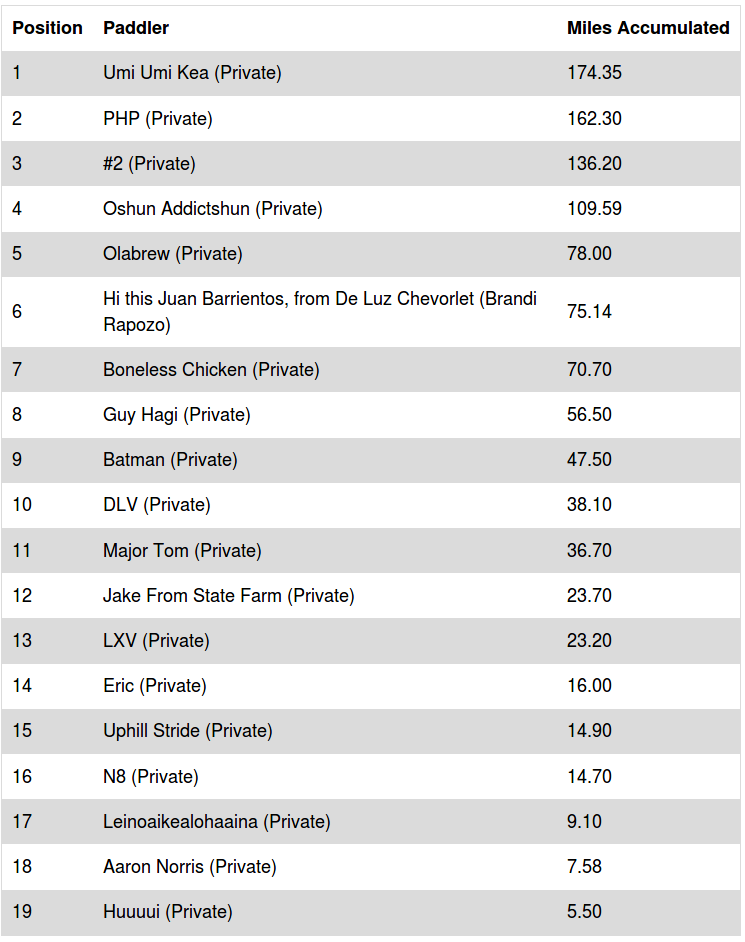 If you want to reveal your identity just login first and go to Events->March Madness and there is a checkbox and a button to turn off your privacy so others can see who they were chasing.
Prizes Already!
Yeah yeah a little late but here are our drawing winners:
Prize #1 Aloha splash bag –

Major Tom

Prize #2: Snack basket –

Leinoaikealohaaina

Prize #3: Dakine straps –

Aaron Norris

Prize #4: Magpul dry bag –

Uphill Stride

Prize #5: Hydroflask can cooler –

N8

Prize #6: Keaukaha jersey 1 –

DLV

Prize #7: Keaukaha jersey 2 –

#2
Contact Kanoe via the Contact Page to get your goodies or track her down on the beach.
April Art Prizes
In case you've missed some of the master pieces of GPS spaghetti work, take a look the gallery by logging on and going to Events->April Art Show. If you're inspired pick a theme (Bunny: Easter, Tree: Earth Day, Heart or Paddle) and upload your art.
Prizes for Artwork:
Kamanu hat
Tie straps
Kamanu leash
Hulislem polarized sunglasses
2 phone bags
See the April Art Show page for photos of the prizes.
May Event
May's events will be announced soon but we plan to have a bigger prize as well as a grand prize for the series of events! Stay Tuned….