March Madness: Week 3
Wow! Week 3 and our club has logged 672.16 miles! Umi Umi Kea remains #1 on the leader board. But we have a new challenger on the scene: PHP. It's a good guess that PHP stands for a type of paddling style, probably something involving power and houses. Both of those two leaders haven't logged many miles for the past week yet remain at the top. Most likely there are more miles to come from those two. Here's how things look this morning: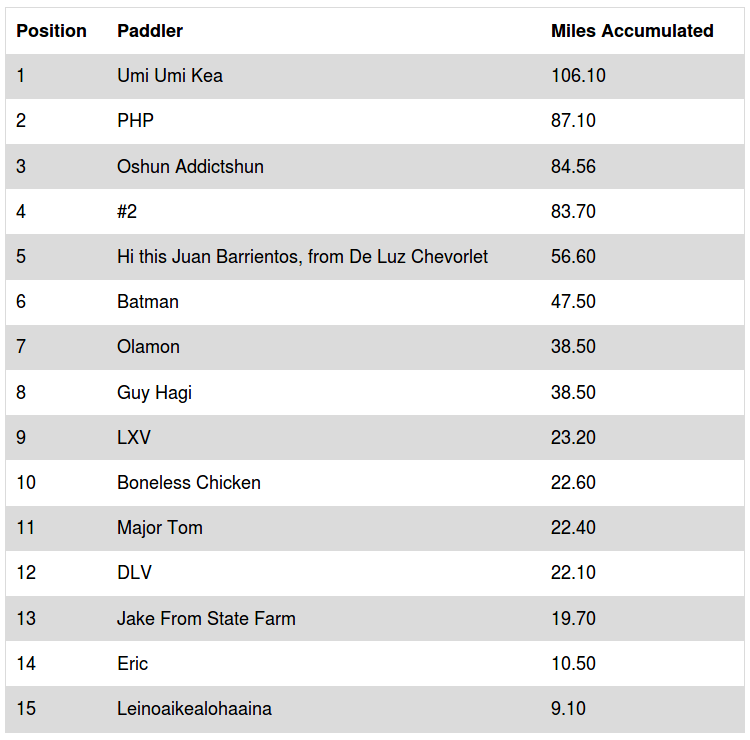 It's certain we'll set some position shifts as people update their paddling logs and we're seeing more shuffling on the leader board as positions 2,3 and 4 are tight. Juan made some gains and a few new players enter the game like Boneless Chicken, Olamon, Major Tom, Jake and Leinoaikealohaaina are adding miles.
Kuuipo Race Results
Keaukaha and KOYD paddlers made a great showing at the Keauhou Kuuipo Races on Saturday the 20th. The weather was calm and hot in spite of the high surf warnings and high wind advisories all around the state. Mauna Loa made a little pocket of clear skies and flat water. Some paddlers opted to skip the races in pursuit of more aggressive paddling conditions. But those who raced "enjoyed" the light south wind and north flowing current. The long course was 9 miles one way route and they got to enjoy the paddle upwind and up current whereas the short course got a little of both as they went south then north for about a 6.4 mile round trip.
Lots of junior paddlers out on the course thanks to Keahi borrowing Jun's (from Hulakai) troop transporter able to carry lots of kids and canoes. Good job to all the paddlers out on the course!
Long: Jose, Eric, Keola, Jeff
Short: Keahi, Greg, Lewis Fleishour (V1 Jr. error in race category, no OC1), Eha Kiyuna (OC1 Jr. error in race category, not V1), Brandy, Niau Paulos (V1 Jr.), O-shen Kawaihae (OC1 Jr.), Dalilah Martin (V1 Jr.), Cother-McKeague La'a (V1 Jr.), Malakai Laititi (V1 Jr.), Nahiena Kekuawela (V1 Jr. error in race category, not 70+), Tanoa Laititi (V1 Jr.)