The East Hawai'i Challenge race took place on Saturday and we are moving into the final days of March Madness.
March Madness Winding Down
Week 4 saw some new entries an some more shuffling on the leader board. Umi Umi Kea seems to have #1 locked in nearing a massive 150 miles! PHP is within striking distance only 7 miles behind. And ironically named #2 is still seeking their namesake, but stuck at #3 about 18 miles behind PHP. Oshun Addictshun almost 35 miles behind the leader and 11 behind #2. And in 5th we have Juan Barrientos who must be having a slow month of car sales as recent gains puts them in the #5 spot. What will the final days bring? Will there be be some last minute Herculean efforts to jump spots?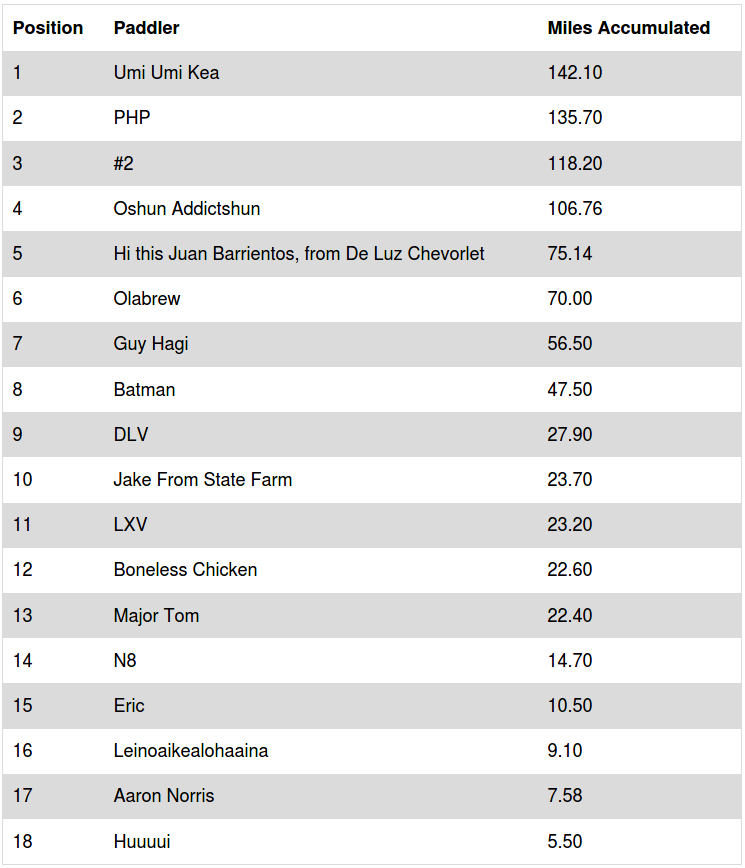 Club miles padded total: 919.08. Lets break 1000!
East Hawai'i Challenge Race
Two courses were set and in classic EHC style they were long. The short course ran about 7 miles and the long course was about 10. The weather presented a "Kona-Style" beginning with a "Hilo-Style" finish. Short course racers lined the shore for a one foot on the sand start in hot calm weather. Their route was out the break wall, right to Onekahakaha and back with a quarter mile sprint along the beach to the finish.
Once the short course paddlers reached the tip of the wall the long course racers set out behind them. They had a similar course but out to Waiuli (Richardson's Beach) and back.
The weather slowly switched from the Kona-like hot and flat to a light easterly breeze which slowly built. By the time the long course boats had reached the turning point a slight wind chop had started to form. While not a downwind sleigh ride, there were bumps to surf and a breeze to help push. The only downside was the easterly also meant the final 1/4 sprint up the beach to the finish was an arm burning upwind leg.
And naturally to close out the end of the race, a rain squall rolled in and dropped the temperature dramatically. Keaukaha paddlers represented well on all the courses with Jose the unchallenged long course leader with an amazing 3 minute lead. Honorable mention goes to Ali'i Youderian a Junior on the short course with a similar impressive 3 minute lead over the pack.
Long: Jose, Keahi, Eric, Jeff
Short: Grant & Kawai, Nahiena & Ryan "Kawika" Kekuawela, Greg, Kanoe, Lewis Fleishour (V1 Jr.), Brandi, Eha Kiyuna (V1 Jr.), Niau Paulos (V1 Jr.), Dalilah Martin (V1. Jr), Kwai-Chang, Kaui, Rena, Malakai Laititi (V1 Jr.), Cother-McKeague La'a (V1 Jr), Corrina, Waiolukea Publico (V1 Jr.), Tanoa Latiti (V1 Jr)