With Covid shutting down our six man season and one man season starting in a few months, some paddlers started to up their fishing game during the between seasons.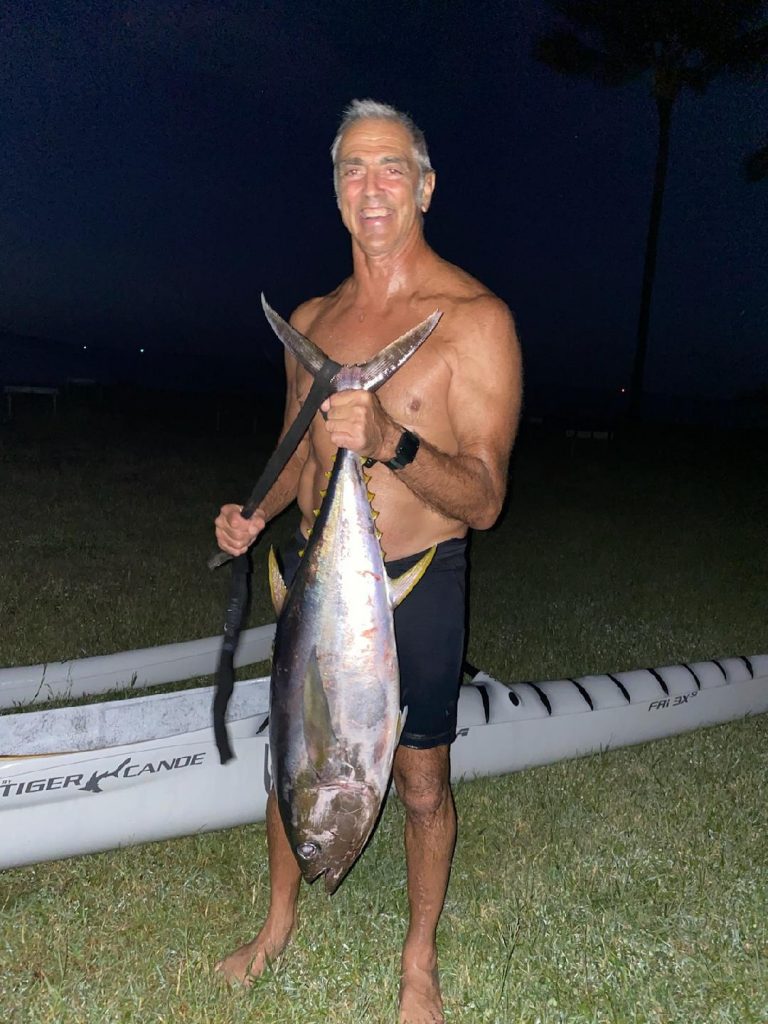 Jeff was out in his V1 fishing for a bite and got more than he expected. While he was paddling along some of the known active spots he turned from Honoli'i towards the light on the breakwall. The swell was slapping the ama and the current was flooding out. The combination made for a pretty easy trolling speed around 4.5 mph.
While nearing the center channel Jeff had a huge hit on his line and it started taking up line. Just as he started to deal with the fish he noticed the tug and tow exiting the bay and heading in his direction. So he started to paddle to clear the channel but the fish had other plans.
Stopping to fight it and reel it in gave the tug plenty of time to get to ramming speed. Jeff waved his paddle in the air with one hand and the rod in his other as the tug kept moving in his general direction. The current was also causing him to drift and the combination of waves and current made it feel like the tug was coming for his fish.
Fortunately the tug captain must have seen the situation and had set his course to slightly to the side Jeff was drifting away from so as he came about 50 feet they passed without incident and Jeff got his first glimpse of a yellow fin through the water!
After some more struggling, he managed to get it under the 'iako and then barehanded the fish by the tail and pulled it into the V1 where it proceeded to pound out a Tahitian style drum solo on the hull.
Using some rubber straps he managed to tie up the tail and secure it to a 'iako for the paddle back and used pliers to pry out the hook. But the ahi wanted back in the water and let everyone within earshot of Jeff's V1 know it.
The hammering continued causing other paddlers on shore came over to see why his V1 was making so much noise.
The final stats: 38″ and 23 pounds.
Everyone is invited to stop by the Hālau on Sunday to wish Jeff a Happy Birthday, go for a paddle and pick up some fish around 12:00 noon. This is not a club event and don't forget to practice safe distancing and take all the necessary covid precautions.