This is a highly anticipated race on the Big Island pulling in top paddlers and wannabees to compete in a downwind run along the rough northern point of Hawai'i Island. The forecasts looked like a strong wind system was going to make Keokea to Kapa'a an exciting race.
Unfortunately an hour before the start the water safety team didn't feel the conditions were safe for everyone due to the strong on-shore push on the first part of the course. Conditions weren't improved by the low tide and rushing river making entering the ocean at Keokea riskier than normal.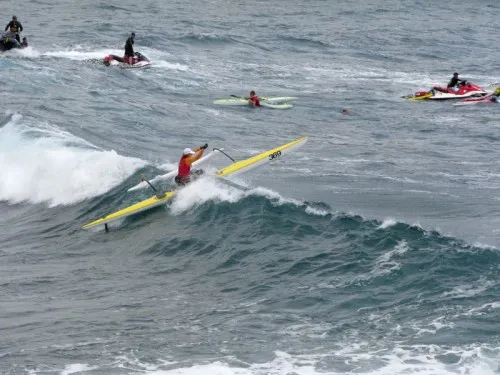 With a promise of a "Bigger and Better" return next year, Eddie called it a day. There were rumors of a underground alternative venue that day and some paddlers debated doing this run unsupported.
Even though the race was called off the money raised by the event went to a Kohala family in need which was a good outcome race or not.
Don't forget to get your jersey ordered by April 20th.