The Hilo weather was nice for the Hui Waʻa ʻO Waiākea club race on Saturday, June 3rd. With keiki's lined up for the short course of 3 miles followed by the 6 mile long course for adults.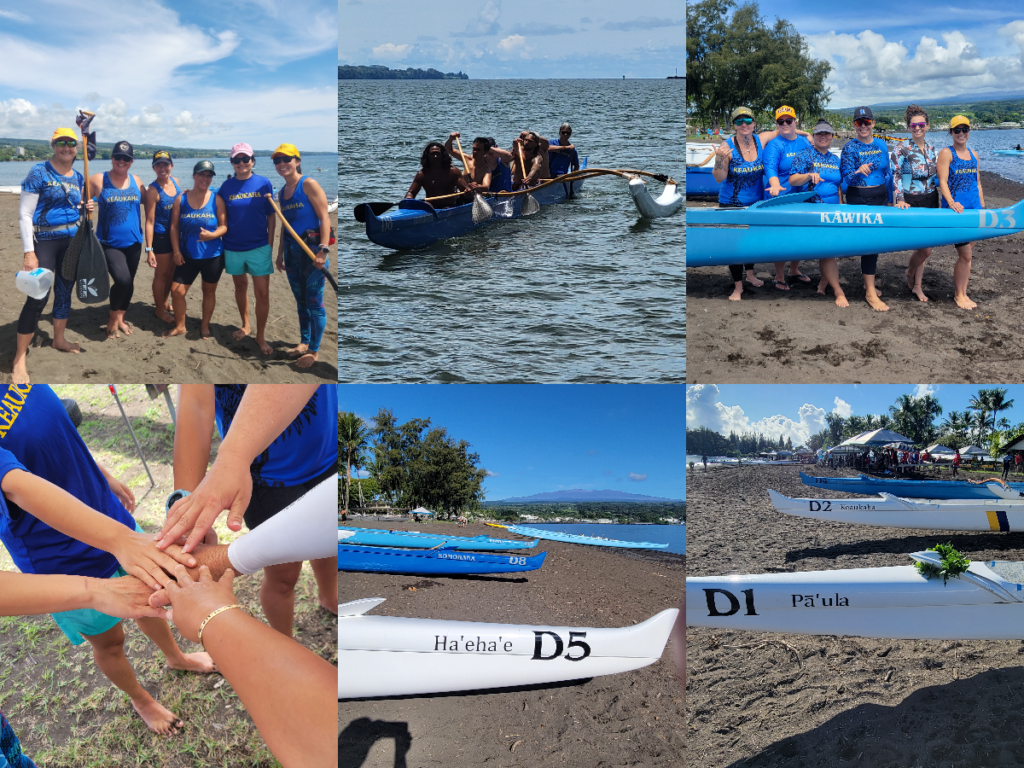 Short Course
We didn't have any keiki racing from our club this race but it was a good turn out of 30 canoes for the short course. Top honors went to Kamehameha's Boys 13 in 18:39 with the Hoemana's Girls 13 finishing just 13 seconds behind them. In fact a lot of close finishers in that race which made for great spectator action.
Long Course
On the long course, that was a different scene as we fielded multiple canoes in a fleet of 46. Here's their overall results:
1st Overall (unlimited): Open Men (Brawn Albino, Grant Kauahi, Kama Leeloy, Tyler Makaiwi, MARIO MAUSIO, ROBERT WHITNEY JR.)
9th Overall: Open Men (Laʻa Kamakawiwoʻole, Keao Kiyuna, Nathan Osorio, Denis Perdomo, Kwai Chang Publico, Paco Sanchez Tusie)
20th Overall: Men Novice: (Sam Carlos, Mike Enos, Jeffrey Laasch Chandler, Casey Morris, Rick Myers, Jonah Villiarimo)
25th Overall: Women Open: (Paige Breen-Page, Kawena Brooks, Kawai Kauahi, Kauilani Marquez, Michelle Melendez, Liana Prudholm)
31st Overall: Women Open: (Rena Kiyuna, Crystal Martinez, CRYSTAL NICOLAS, Alexia-Marie Osburn, Corrina Publico, Leiana Reyes)
38th Overall: Women Novice: (Lisa Eller, Katie Friday, Haunani Miyasato, Junko Nozawa, Maile Nunez, Linda Santiago)
45th Overall: Women Novice: (Jackie Ahia, Ashley Kahiapo, Syrissa Sacca, Thelma Tomich, Kehau Usui, Nikki Vierra)
Full Results
Full results overall and by division: https://hcrapaddler.com/hcra_ld_results.php?view=byplace&rid=973
Congratulations to the unlimited crew for putting a fire to whole fleet and making them chase them around the course. Also to all the novice paddlers who continue to be a force on the water and comprised 1/2 of our entries with 3 canoes! Keep up the hard work. You'll see it pay off in time as you work together and develop speed and endurance. Garans!