Sea of Paperwork
Before getting into the regatta results, it's important to communicate why we had so many registration issues. For the past couple years HCRA accepted our electronic forms. However about 3 weeks ago they rejected them (long story) as we started submitting all our waivers, ID's, photos, etc. This was a huge issue for our club as we were unprepared to process over 250 waivers by hand (which included all the kids). A few volunteers quickly stepped up to try to help get it done. HCRA then started rejecting them for trivial technical reasons, making even more work. Some paddlers had to sign 4 or more times before getting approved. Tracking who was approved, who needed to resubmit, who was missing papers, who was stuck in the system was nearly impossible to do perfectly.
Without going into the weeds, except to say we had over 20 paddlers waiting for approval before their deadline and they got ignored by HCRA, our volunteers tried to plug all the leaks in the dam to get as many approved by whatever means it took on Saturday.
Sadly this left some people in the cold. And some crews were forced to scratch their event.
However at this point we are down to about 15% or less of our paddlers that need HCRA approval before 5pm Wednesday again, so please try to be patient and understanding as we attempt to get everyone approved.
Let's Race! Paddles Up!
A nice overcast day in Kona provided some relief from the fireball that usually reverts the asphalt pier back into molten goo. And leading the charge was the keiki divisions and novice crews who helped set the dominant tone for the day.
Just look at our medal totals!
| | | | | | |
| --- | --- | --- | --- | --- | --- |
| | | Gold | Silver | Bronze | Total |
| | Puna Canoe Club | 15 | 6 | 5 | 26 |
| | Keaukaha Canoe Club | 9 | 3 | 6 | 18 |
| | Kai 'Ehitu | 4 | 8 | 4 | 16 |
| | Kai Opua Canoe Club | 3 | 11 | 7 | 21 |
| | Kawaihae Canoe Club | 3 | 3 | 6 | 12 |
| | Keauhou Canoe Club | 3 | 3 | 3 | 9 |
| | Kamehameha Canoe Club | 1 | 3 | 2 | 6 |
| | Waikoloa Canoe Club | 1 | | 1 | 2 |
| | Hoemana | 1 | | 1 | 2 |
| | Paddlers of Laka | | 2 | 3 | 5 |
| | Na Wa"a Hanakahi | | 1 | 1 | 2 |
| | Keoua Honaunau Canoe Club | | | 1 | 1 |
| | Hui Wa'a O Waiakea | | | | 0 |
| | Kailana Canoe Club | | | | 0 |
| | Tui Tonga | | | | 0 |
| | Kona Athletic Club | | | | 0 |
| | Miloliʻi Canoe Club | | | | 0 |
2023 Kai 'Ehitu Regatta Medal Count
If you'd like to know how the points and divisions work check out our post from the first 2022 regatta.
And here's the full results for the regatta.
The Good
Keiki crews filled every event and we had multiple crews that literally walked away from the fleet. There's so much that could be said about all their dedication and teamwork but the best part is they had a great time together. By the time the kids crews wrapped up their races they put our club in 2nd overall, 1 point ahead of Puna and a mere 10 points behind Kai 'Ehitu, with us finishing 3rd overall by the end of the regatta.
Novice crews faced their first race with blazing paddles and a fire in their eyes, and maybe a butterfly or two in their stomachs. As far as most people can remember this is the most novice crews we've fielded in a long time. Good job crews! I can't wait to see your progress this season. Shout out to those crews:
Women B's: Jackie Ahia, Kelly Bernier, Ashley Kahiapo, Crystal Obrien, Kehau Usui, Nikki Vierra
Men Nov. B's: Scratched due to sea of paperwork instead of salt water.
Mix Nov. B's: Jackie Ahia, Kelly Bernier, Jeffrey Laasch Chandler, Casey Morris, Kehau Usui, Jonah Villiarimo
Women Nov. A's: Whitney Dahm, Nalani Laititi, Lisa Lucia, Michelle Melendez, Haunani Miyasato, Keala Stant
Men Nov. A's: Francis Alcain, Laʻa Kamakawiwoʻole, Ryan Lucia, Rick Myers, Nathan Osorio, Patrick Parker
We also had a few crews that were completely untouchable. They not only brought the heat, but packed it up, took it home and had a BBQ with the leftovers.
These are crews that not only were 1st but had significant gaps on the whole fleet.
Girls 15: Zoe Aoki, Tati Dunhour, Kalena Harbottle, Jillian Lum, Malia Lani Simram, Brandy Uyeshiro
Girls 16: Zoe Aoki, Tati Dunhour, Pua'ena Estocado, Pualani Estocado, Olena Harbottle, Kaliko Uyeshiro
Boys 16: Eha Kiyuna, Malakai Laititi, Niau Paulos, Chanstin Uahinui-Vagai, Ulu Yung, Umi Yung
Girls 18: Jaydee Ah Sing, Pua'ena Estocado, Pualani Estocado, Olena Harbottle, Dalilah Martin, Waiolu Publico
Boys 18: Eha Kiyuna, Kahalia Masaoka, Tyler OBrien, Niau Paulos, Noah Pila, Umi Yung
Mix 18: Dalilah Martin, Kahalia Masaoka, Tyler OBrien, Noah Pila, Waiolu Publico, Kaliko Uyeshiro
Womens Jr: Kawena Brooks, Anna Kaaua, Kawai Kauahi, Brianna Ninomoto, Alexia-Marie Osburn, Brandi Rapozo
Men 65: Jeff Clemenson, Warren Dela Cruz, Greg Kane, Mike Shintaku, Ben Smith, Egan Tasaki
An unsung hero goes to George Thomas who is not only our oldest paddler, but he practically has his own 80's division. He's an inspiration to all of us. In fact, I personally know a few older non-paddlers who now have new motivation seeing him hammer in the 55 (?!) division.
Also a big thanks goes to Keahi who never fails in the dozens of tasks needed to pull these events off: trailer the wa'a, rigging, dealing with officials, paperwork, and somehow keeping over 50 kids out of trouble while paddling a priceless koa canoe in tight spaces.
Also mahalos to all the boat holders, paper wrestlers, snack bringers, tent setters, kid watchers, and all the others who try to keep the wheels on.
Which brings us to the bad.
The Bad
It's bound to happen, but 4 hulis (5? I lost count) in one day is a lot. And it's tough on crews, especially the steersman. I tried to help one girl in tears because she was devastated feeling she got her crew DQ'd as a large group of adult paddlers jump off the race boat to help empty the canoe and get them across the finish line. It's a gentle reminder that if it was easy, it wouldn't be so exciting and rewarding. And we should be supportive of each other.
Also in the bad list was the collision between two Koa canoes that was bad enough to cause cracks on both of them and the wa'a had to be retired. This is also one of the risks of paddling and learning. While it breaks everyone's heart when it happens, it does happen and we just want to emphasize caution.
And while that stuff was bad, there's still the ugly.
The Ugly
Our paddling organization is very large and a bit unwieldy like a 3000 person canoe might be. It's impossible to keep everyone happy although we try our best. Each island and club is a little different. Everyone has their own challenges at all levels and it's important to keep that in perspective.
In the wise words of Ted Lasso (video clip must see):
Be curious, not judgemental.

-Fictional show about soccer or football or both maybe?
So, like in the wa'a, let's move forward together and let others fret about the wake behind us.
The Fun
My favorite part.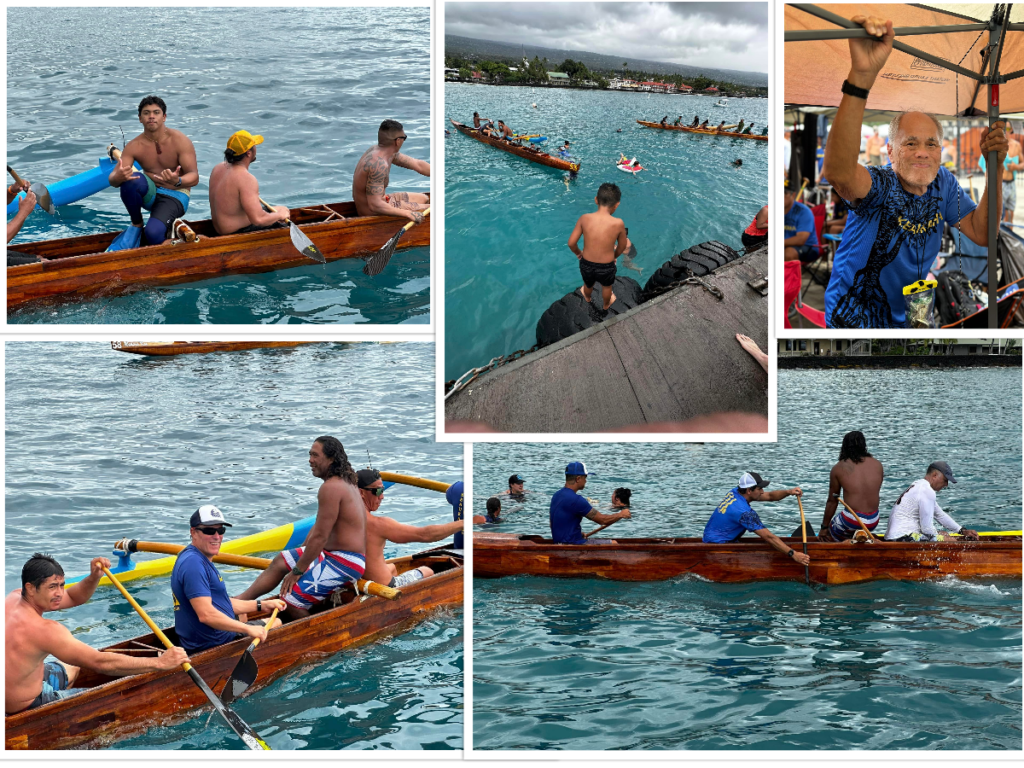 Keauhou Canoe Club Regatta 5/27
Let's get ready to race again on the 27th! Lessssgoooo!