The club reached an impressive 1099.76 miles logged for March, and that's not including all the people who didn't log their miles. The top 4 paddlers logged over half of the 1000 miles alone.
Reveal Your Madness
If you participated in the event you'll know there was a lot of guessing about who was who. Participants can now choose to reveal themselves if they wish. Go to the March Madness page and at the top you'll see a new option to allow you to display your name in place of the (Private) label that is in the table now. Only people who members of our site can view the the non-private version of the this table, so it's still not exactly public.
One final note on March Madness. It was interesting to see how consistent some paddlers were with their training. The more consistant you were the more ramp shaped the mileage gain. Here's the final composite graph and you can see top 3 "Umi Umi Kea", "PHP" and "#2" had pretty nice shaped ramps meaning they trained in regular intervals.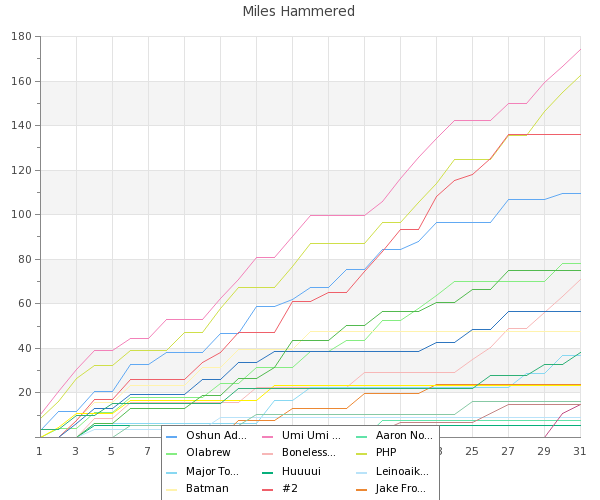 Prizes!
The prices will be drawn and winners announced soon! Also the prices for the next event will be announced very shortly too. Read on.
April Art Show Is Open
Our latest event will focus more on your mind than your ability to hammer out a ton of miles. This is a test of your navigation and creative skills. We've given you 4 subjects to choose from and you, your canoe and your GPS will do the best to try to express your artistic skills.
This month your challenge is to create works of art on the water with your GPS tracks. The subjects you can choose from include: Bunny, Tree, Paddle and a Heart. There's no limits. You can upload as many "attempts" or as few as you want. Participants automatically get entered in the prize pool and your artwork will be on display for members to enjoy.
Just like the last competition you can use a nickname and you can edit your own log as needed. There might be a few bugs early on as no one has really tested the code out much, so if you run into problems contact us and let us know.
You will need the ability to upload a screen shot of your GPS track. Android and iPhones can easily take screen shots for you. Here's iPhone instructions and here's how to do it on android.
Prizes are not based on subjective art quality, but randomized again for participants. When we have a full list of prizes and photos we will post them!
You must login to view club events and participate: