The past 2 weekends had a lot of racing. Even if you were out there hammering you probably missed something. Let's recap.
Moku O Keawe
This 3 stage race was held on March 4 and 5th and had a large turnout. Stage 1 was a 2.5 mile sprint followed shortly by a 6 mile race for Stage 2. Sunday featured a 12 mile Stage 3 (or you could opt for the 6 mile).
A lot could be said about these races, but most people had Stage 3 burned into their brains. As the entire fleet of racers waited poised on the beach start for Keakua to show up, the wind started building from the SW. And they kept building.
A 6 mile bash to the turning point was strenuous and tiring. Once around it and heading back up you had to either choose to try to stay high off shore or enjoy the ride inshore and pay for it by battling back out around the point. No matter what each paddler did, they'll remember this muscle burner for a while.
If you have Facebook, Kawika Singson made killer videos which has some great footage of the sprint heats and other races.
https://www.facebook.com/kawika.singson/videos/979037913065002
https://www.facebook.com/kawika.singson/videos/5976383672452731
Also there are a ton of great photos here in this gallery taken from on the water. https://haweasmamaphotography.pixieset.com/mokuokeawechallenge2023/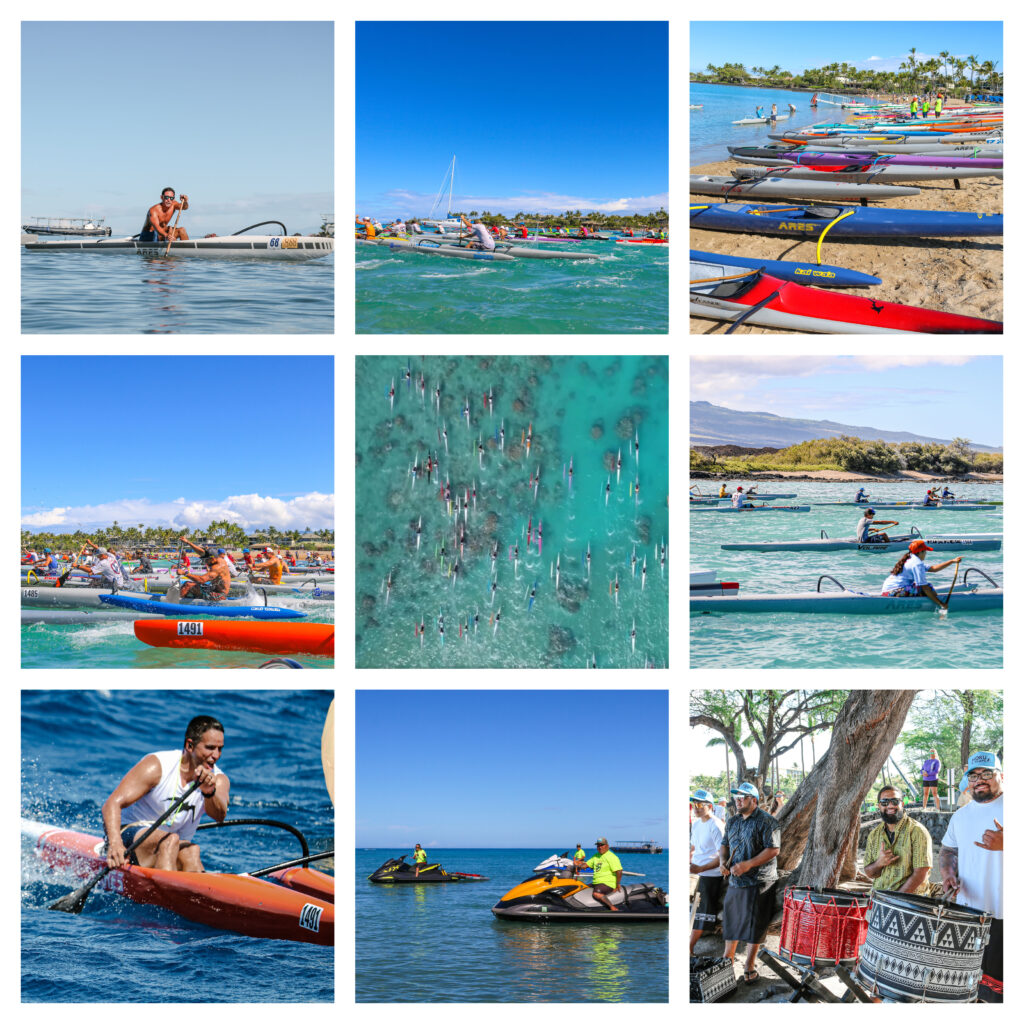 Here's the 3 Stage Combined results
Aloha Aito 4
Over on Oahu on March 5th we had the 4th annual V1 rudderless race with many keiki paddlers from KOYD/RISE participating.
Keahi posted their results from this event:
Results:
Long course – 14 miles
19 Jr men
Ali'i Youderian (1st place)
Short course – 7 miles
16 Jr men
'Ehā Kiyuna (1st place overall)
Talan Nicolas (4th place)
16 Jr women
Zoe Aoki (3rd place)
19 Jr men
Niau Paulos (1st place)
Tyler OBrien (3rd place)
19 Jr women
Nahiena Kekuawela (1st place)
Cother Laa (2nd place)
Pakela Kaaua (3rd place)
Waiolu Publico (4th place)
With lots of photos here https://www.instagram.com/rdrlswaa/?hl=en
Keauhou Kuuipo Results
March 11 found those paddlers who didn't have quite enough of a bruising the previous week showing up at Honokohau Harbor (9 mile long course) to Keauhou or the 7 mile short course out and back at Keauhou for another chance at glory.
Long course paddlers started off the green buoy at the harbor with some NW little bumps to help them south. Short course paddlers went south out of Keauhou for 3 miles then back. The current near Keauhou was running south to north was a challenge for both courses but there were no strong winds and the small bumps were helping push, but they were tricky to find.
You can find long and short course results on webscorer
https://www.webscorer.com/race?raceid=308135
Got FOMO?
Get on that canoe and join us this Saturday, March 18, for Freddie Berengue Memorial Race at Honokohau.