There has been a lot of paddling and some partying going on and keeping up is tough. In this post we'll cover the end of the OC1 Season, the IVF World Distance, Our Potluck and the start of the OC6 Season with the first long distance race.
OC1 Season Wrap Up
In chronological order of the OC1 season which completed with the Yamagata Challenge:
KEAUHOU KUUIPO RACE – March 11th RESULTS
The Kuuipo Race was held at Keauhou Canoe Club on historic Keauhou Bay. After a week of high wind and waves, conditions moderated for race day to light winds and 3′ swells from the northwest. The 9.5-mile Long Course started outside Honokohau Harbor and ended at Keauhou. The 7.5 mile Short Course started at Keauhou and ran south to Neanue Point then returned to Keauhou. Many paddlers thought the Long Course was easier that the Short Course on this day.

-HIPA
FREDDIE BERENGUE MEMORIAL RACE – March 18th RESULTS
The Freddie Berengue Memorial Race was held at Honokohau Harbor on a sunny day with light breezes and very small seas. The 10-mile Long Course and 5-mile Short Course started outside Honokohau Harbor and returned to the finish line at the harbor entrance.

-HIPA
SURF PARK RACE – March 25th RESULTS
The Surf Park Race was held at Pua Ka`ilima Cultural Surf Park in Kawaihae on a mostly sunny day with light breezes and very small seas. The 10-mile Long Course (featuring 33 canoes) and 6-mile Short Course (featuring 31 canoes) started inside Kawaihae Harbor and finished outside the breakwater at Surf Park. Paddlers reported good conditions and lots of dolphins.

-HIPA
EAST HAWAII CHALLENGE – April 1st RESULTS

The 2023 East Hawaii Challenge featured two courses from Leleiwi Park to Bayfront Park in Hilo Bay. Paddlers and spectators enjoyed a nice day for a canoe race. A 5′-7′ swell and 10-15 mph wind combined to provide a good push for the portion of the courses heading west. The 7-mile short course included 47 boats and ran from Leleiwi Park to a turn near Honoli'i then into Hilo Bay and down the grand strand of Bayfront Part. The 12-mile long course featured 54 boats and first ran east from Leleiwi Park for 2 miles then turned around and followed the short course to the finish.

-HIPA
FOUR SEASONS HUALĀLAI OC1 OC2 CANOE REGATTA – April 8th RESULTS

The 2nd annual Four Seasons Hualālai OC-1 & OC-2 Canoe Regatta included 68 canoes and was run on a 14+ mile round trip course from Kukio Bay. The chance to win big awards and enjoy the hospitality of the Four Seasons Resort Hualālai drew many of the top paddlers from the State and a good crowd of spectators.

-HIPA
YAMAGATA CHALLENGE – April 15th RESULTS
The final race of the 2023 spring season was the Yamagata Challenge which began at Honokohau Harbor and finished at Keauhou Bay on a beautiful sunny day. Water conditions were a light wind chop from a 10 mph southerly. The 10.7-mile Long Course included 30 canoes and one prone-board. The 9-mile Short Course included 35 canoes.

-HIPA
One Man Season Tally
The end of the year results are calculated by adding up each paddlers division points and weighted by number of races. To get ranked in a category you have to have paddled at least 4 races in that course and division.
| | | | | | |
| --- | --- | --- | --- | --- | --- |
| Course | Division | Place | Name | Points | Races |
| Long | Men Oc1 Open | 1 | Jose Lizardi | 18 | 5 |
| Long | Men Oc1 40-49 | 2 | Mario Mausio | 19 | 4 |
| Long | Men Oc1 50-59 | 3 | Grant Kauahi | 22 | 10 |
| Long | Men Oc1 60-69 | 2 | Jeff Clemenson | 24 | 7 |
| Long | Men Jr. | 2 | Ali'i Youderain | 31 | 7 |
| Long | Men V1 40+ | 2 | Eric Baicy | 20 | 6 |
| Long | Men V1 Jr. | 1 | Eha Kiyuna | 27 | 7 |
| Long | Women Oc1 Open | 2 | Brandi Rapozo | 32 | 8 |
| Long | Women Oc1 40-49 | 1 | Kawai Kauahi | 39 | 10 |
| Long | Women Oc1 Novice | 1 | Kawena Brooks | 36 | 8 |
| Long | Women Oc1 Novice | 2 | Alexia Osburn | 21 | 6 |
2023 Keaukaha Club Ranked Member Results – Long Course
| | | | | | |
| --- | --- | --- | --- | --- | --- |
| Course | Division | Place | Name | Points | Races |
| Short | Men Oc1 50-59 | 1 | Rodrigo Romo | 19 | 5 |
| Short | Women Oc1 Open | 2 | Crytal Martinez | 23 | 7 |
2023 Keaukaha Club Ranked Member Results – Short Course
Of course we had many more paddlers than just those that got ranked (hopefully no one was missed from the list), but you have to paddle 4 of the same course (long/short), same craft (oc1/v1/surfski/oc2/etc.) to make the list. Congrats to those who stuck with it and to all those out there paddling. Let's see more of us out there for 2024!
World Distance Time Trials
The IVF world distance time trials for Hawai'i were held on March 25/26th. This event will be held in Samoa, Aipa this year in August 10th to 19th. The course was a 2 day race staged at Ke'ehi Lagoon near Honolulu. It consisted of a short and long course race for both OC6 (aka. V6) and V1 canoes and besides our 1 adult paddler the other 24 contenders were all KOYD sponsored Juniors.
To qualify for the World Distance Race in Samoa this year, paddlers had to place 1st in their division. The U16 Girls V6 and Ali'i Youderain (V1) are going to Samoa!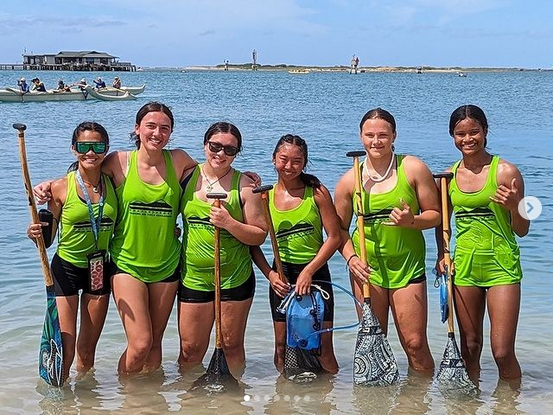 Congratulations to all of our participants in the 2023 IVF distance-trials. The U16 Girls V6 and Ali'i Youderain are going to Samoa! KOYD sponsored 24 youth who competed in the U16 B/G V6, U19 B/G V6, U16 B/G V1, and the U19 B/G V1.

Special congratulations to @tatianaamadisonn @zoe.keiya @kalikou.oj @sojuicyhawaii @malukauahi @maliasimram of the U16 Girls V6 squad and @aliiboi_808 of the U19 V1 for securing their entries into the 2023 IVF Samoa World Distance Championships.

We are super proud of each and everyone of you and especially of your commitment to this practice of outrigger canoe paddling. KOYD believes strongly in the values of commitment, courage, competence, compatibility, but most importantly character and how you hold yourselves in defeat and in victory. Let's continue to build and learn from our experiences combined and focus on ALL of our growth and efforts. Thank you #GOD for all of your blessings upon us and continue to work in the lives of these young people, their mentors, and their families – Amene

-Keahi
V1 Short & Long Course Results
V6 Short & Long Course Results
SPECIAL SIDE NOTE – HILO HOSTS WORLD SPRINTS 2024
Think about getting your 6 man crews a training schedule and think about tuning up your V1 skills because the World Sprints is coming to Hilo Bay in 2024 and our club will be heavily involved in hosting and supporting this event.
Keaukaha Opening Party
On March 30th the club held it's first party to open the season and mālama the wa'a and hālau. But it was also a great excuse to have some fun after all the pandemic lock downs.
Volunteers set to work cleaning canoes, picking up trash, lots of trimming (2 trailers full of green waste), and made some minor repairs to OC1 Hālau 2. Everyone just jumped in and quickly got to work. Afterwards about 4 tons of ono food were lined up on tables in the main hālau.
It was hard to guess the crowd size including kids was probably around 200. There was volleyball and a couple tossing games. Some written games for families to play together along with tasty prices.
There were also OC6 rides for adults and kids and a group of the club paddlers joined in a back paddle race and a 3 man ama flying challenge along with some attempts at 6 man ama flying, which mostly ended in huli drills.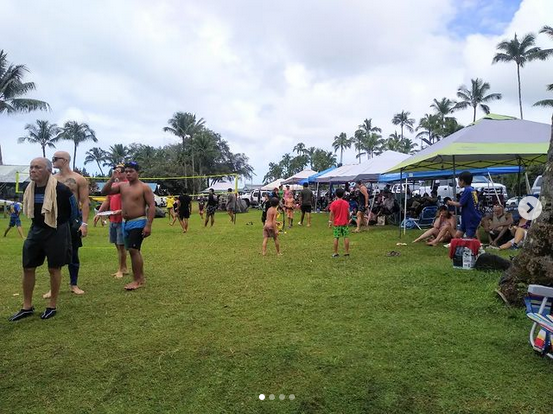 There were also some watercraft to try out thanks to the Kiyunas who let people try their surfski and their paddle board.
Great way to get ready for defending our Championship at Moku's and States for 2023!
OC6 Hoemana LD Race – May 5th
If you've made it this far, you're doing good. This is the last entry but the start of our OC6 season.
Hoemana hosted the Kai Kukini Race at Spencer's Park is a new venue hosted by a club that is still in the formation process but will be based out of Spencer's Park. With gusty shifty winds and white caps, the women and mixed crews faced the first challenge with a 9am start heading south for 3.5 miles (7 mile course). Head winds made this a bumpy and challenging run with more than one huli.
Huge congratulations to the Open Women who hammered out a 1st place victory and the Women's 40 who pulled off a 2nd place narrowly beat by less than a minute. The real champs though were the Women Novice crew who faced the conditions and charged the course. It was a hard push and they didn't back down. Good Job!
The men's course was 12 miles and for some paddlers their first long distance race. It was filled with shifting winds and choppy waves. Seats 3, 4 and 5 got some additional exercise removing hundreds of pounds of water. Ha'eha'e in particular wanted to go faster and kept lifting her ama to the sky but the crew reined in that desire and the two Men's 40+ crews pushed to catch Kamehameha whose canoe had been fitted with offshore skirts keeping the water out. They were able to squeak out about 1 minute ahead of the two crews with Keaukaha finishing 2nd and 3rd.
Great racing, teamwork and canoe handling to all these crews!
Kawaihae May 13th! Let's go!